As an English tutor, I see grammatical issues worsening as the years go on. 
One can put this down to the way it is taught in schools or the relative difficulty of grammar. Still, I genuinely believe that texting culture, Spell Check and general malaise have something to do with this. 
However, as children venture through primary school and then into high school and university, they are still making the same grammatical errors. Whilst Spell Check can fix up the letters of a word being jumbled, it cannot resolve common grammar issues. 
I truly believe that grammar must become a key focus in our schools and our homes. 
Recently, my student told me that he does not consider grammar and punctuation relevant. Whilst this momentarily broke my heart, it also offered me a teaching opportunity. I proceeded to teach him about a sad grandma and a pesky panda.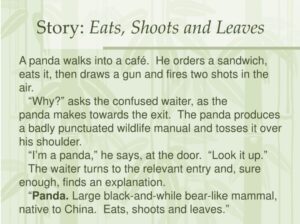 My student was perplexed that a simple line flick could dramatically change someone's life. And so, it was an effective use of my time. 
Here are three ways that you can help improve your child's grammar at home:
1. Story-telling in past, present and future
Encourage your child to tell you their daily stories in "past tense" from a young age. Ask them about specific verbs they have conjugated into past tense, i.e. "Ben, how would you say 'ran' if you were doing it right now?". 
2. Read, read, read!
I cannot stress the importance of reading. It is so fundamentally important for you to be reading with your child every day until they can complete the task independently. There are so many exceptional children's books, so finding content will not be a problem. Why not check out your local library to improve your child's grammar?
3. Silly stories
Have your child write you "silly" stories that still make grammatical sense. For example, "the purple bunny farted and flew into the sky because it was so forceful". There are chances to look at nouns, verbs, adjectives and other grammatical elements in silly sentences!
For my students, I always use a service such as Grammarly. Grammarly is a fantastic tool that "reviews spelling, grammar, punctuation, clarity, engagement, and delivery mistakes. It uses AI to identify and search for an appropriate replacement for the error it locates". 
I use Grammarly myself as a student and teacher because I believe it gamifies the process of correcting your work. Students are engaged when they see their writing score turn from a 60 to an 85, and it encourages them to take more care in their writing in the future. 
Most students use the free version of Grammarly, but there is also a premium version that elevates language use even further.
Students can use it when they are typing emails to their teachers, writing assessments or generally communicating. It will create a habit of checking their grammar and writing in a way that provides them with alternatives and support. 
You can try Grammarly today by clicking the image below.